Overseas Marylanders Association

In Memory
David Kenyatta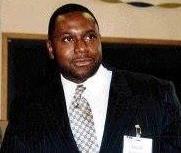 Dr. David R.J. Kenyatta passed away peacefully at home in Baltimore on September 22, 2018. David was born on November 28, 1956 in Philadelphia and was preceded in death by his parents Phoenix and Martha Johnson.
David loved learning and earned a Bachelor's degree from College of the Holy Cross, a Master's degree from Ohio State University, a Masters and Ph.D. from Penn State University, and a J.D. from the University of Baltimore. He held academic and administrative positions at numerous universities including Morgan State University, University of Maryland University College, Troy University and Kampala International University.
While applying to colleges in Philadelphia through the American Foundation for Negro Affairs (AFNA) Program, David became attached to Retha Bright Kelly, who worked there as a Student Administrator, and she to him. Realizing that David had no family she took him under her wing, as a Mother, and introduced and adopted him into her family. He was accepted by all and came to lovingly call her Mom and she called him Son. She loved and was very proud of David and all of his educational accomplishments. When David came to visit, all the family came over to laugh and joke with him. Although not blood related, David was considered family and was always referred to as a brother, uncle to the children and a cousin by other relatives.
David possessed remarkable intelligence, drive and energy, creativity, and open-mindedness. His passion – be it for Shakespeare, the movies, or Agatha Christie – was infectious. His quick wit, charm, easy smile, and generous disposition endeared him to everyone. You could have strong disagreements with David about many things, but he was always willing to accept a point of view very different from his own, while being true to his beliefs. His favorite pastimes were going to the theater, the movies (particularly film noir), the gym, bike riding, and traveling. He saw much of the world, with London being one of his favorite destinations.
He was a member of the Alpha Phi Alpha Fraternity Inc. and the Knights of Columbus. He was a faithful member of the Catholic Church.
He will be missed by all those who knew him.
Sorrowfully submitted by Mary Ellen Kauffman, Ven Sriram and Cynthia Church. A memorial service for David was held at Saint Edward's Roman Catholic Church 901 Poplar Grove St Baltimore, Maryland 21216.