Overseas Marylanders Association

In Memory
Warren Johnson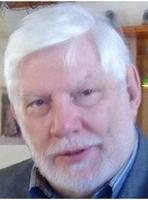 Warren Johnson, 73, UMUC Collegiate Associate Professor, died 27 April 2019 at his home at Augsburg. His wife died prior to his death. His son, Michael, survives him.
Warren Johnson was born in Chicago, grew up in Illinois and Wisconsin, and served overseas with the U.S. Army during the late 1960s. He is a graduate of Northern Illinois University with a B.A. in Psychology and an M.A. in Sociology.
Starting with evening classes in 1974, he taught later for the Day Campus in Germany, for AFCENT in the Netherlands, and for UMUC in Manama, Bahrain. Adding Distance Education classes in 1998 his courses focused on Military Sociology (SOCY 464), Religion (SOCY 426), Theory (SOCY 403), Demography (SOCY 410 and SOCY 312), and Gender (SOCY 462 and SOCY 325). He helped train teachers for DE, was a participant in the Accessibility in Distance Education (ADE) project, and was a Fellow in the Inter-University Seminar on Armed Forces and Society (IUS). (from Warren's web site: http://www.johnson-augsburg.de)
Warren taught with UMUC for 40 years. He was awarded distinction of professor emeritus May 2015.