Overseas Marylanders Association

In Memory
Fabian Schupper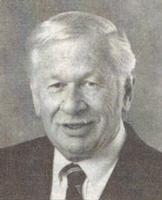 CHARLESTON - Dr. Fabian Xerxes Schupper died peacefully at Roper Hospice Cottage on Wednesday, February 20, 2019 in Mt. Pleasant, SC at the age of 96.
He is survived by niece, Vicki Blumenfeld (and Joel) of New York City, NY; nephew, Marshall Hambro (and Kathryn) of Minneapolis, MN and nephew, Bruce Hambro of Waltham MA. He was preceded in death by sister, Naomi Hambro of Newton, MA.
Dr. Schupper was born June 20, 1922 in New York City, New York to Morris and Pauline Roth Schupper. He earned a B.A. (1950) from New York University, an M.A. (1953) and Ph.D. (1955) from the University of Connecticut. He was also a graduate of the Berlin Psychoanalytic Institute, Germany (1959). He completed his internship at the Veterans Administration Hospital in West Haven, Connecticut.
His distinguished, professional career over 40+ years included faculty positions in Clinical Psychology at Berlin Psychoanalytic Institute, California School of Professional Psychology, the University of Maryland University College (UMUC), and Adelphi University. In addition, he served as Chief Psychologist at Roosevelt Hospital in NYC while maintaining a private clinical practice. In support of his professional affiliations, Dr. Schupper served as Associate Editor of The American Imago Journal (founded in 1939 by Sigmund Freud and Hanns Sachs.); as a member of the Board of Directors of The American Mental Health Foundation and The Avard Learning Center; as Vice President of the Association for Applied Psychoanalysis; and as Executive Secretary of the New York Psychological Association.
Dr. Schupper's long-standing relationship with the European campuses of the University of Maryland resulted in numerous and laudatory recognition of his leadership and contributions to the quality of instruction facilitated by his efforts. His work with the University of Maryland and his love of travel and culture carried him to the far corners of the world. Friends and family lived vicariously through his frequent, creative notes and post cards.
Dr. Schupper was a member of the Unitarian Church, the Carolina Yacht Club, the Preservation Society, the Charleston Library Society and the Gibbes Museum of Art.
To those who knew Fabian on a more personal level...qualities of dignity, gentility, and generosity immediately come to mind. His linguistic and cultural curiosity, love of good music and art, and a spirit of adventure was demonstrated by a lifetime of world travel. He will be remembered for his kindness, intuitiveness and generosity combined with a keen sense of observation.
In addition to his family, Fabian will be sadly missed by close friends, Antonio and Deborah Diz, Gayle Sauer, Charles Parnelle, Charles Kaiser, Robert Crout, John Meffert and others to numerous to mention. Family and friends would like to thank the following for their dedicated service and care of Dr. Schupper during his final days: Katie Daugherty, Executive Director, Stephanie Crane, Director of Sales and the staff of The Blake at Carnes Crossroads, the staff of Roper Hospice Cottage, and MUSC doctors and staff.
A memorial service was held April 6, 2019 at the sanctuary of The Unitarian Universalist Church in Charleston, 4 Archdale Street, Charleston, SC followed by the dispersion of ashes in the Garden of Remembrance and a reception in Gage Hall. In lieu of flowers, donations may be made to Roper Hospice Cottage, 676 Wando Park Blvd., Mt. Pleasant SC 29464. Condolences may be sent c/o Antonio Diz, 419 Eliston Street, Summerville SC 29486 who will forward them to family.