Overseas Marylanders Association

In Memory
Michael Apichella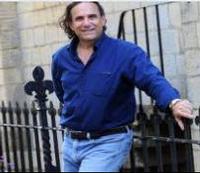 Tributes to award-winning writer and broadcaster Michael Apichella who was a 'true storyteller and lived with gusto'
By Paul Derrick - paul.derrick@iliffepublishing.co.uk
Published: 07:00, 28 October 2019
Tributes have been paid to award-winning writer, broadcaster and Bury Free Press columnist Michael Apichella, whose 'curiosity took him from the coal mountains of Pennsylvania to adventures around the world'.
Dr Apichella, 65, died on Wednesday, October 16, 2019 at St Nicholas Hospice Care after he was diagnosed with lung cancer – a subject he discussed in his final column published in last week's Bury Free Press.
His family said: "He was a one-off. He lived with gusto, was devoted to his family, a deeply loyal friend to many and his faith in Christ guided his life. "He was a true storyteller and had an amazing way with words. He overflowed with stories – everything was a potential article. "He genuinely cared about people. His curiosity took him from the coal mines of Pennsylvania to adventures around the world."
Born and brought up in Pennsylvania in the US, he was a professor of English with the University of Maryland's European division.
Dr Apichella moved to Bury St Edmunds in 1997 to be close to RAF Lakenheath and Mildenhall for his work teaching with US military personnel and adopted the town as a 'home away from home'.
In 2010, he was awarded the Stanley J. Drazek Teaching Excellence Award and retired from university teaching in 2014 to concentrate on painting and writing. Up until his death, he wrote weekly articles for newspapers and magazines, he completed four novels – currently unpublished – and his novel The Chronicles of Johnny Pilgrim was serialised in the Bury Free Press. Between 1986 and 1995, he was the religious programmes organiser at BBC Radio Oxford.
His family added: "He loved to share meals and stories at the dinner table. "He was an enthusiastic cook and generous host. His home was a place of welcome, an intentional philosophy of authentic hospitality he practised since his time living at the L'Abri community in Switzerland in the 1970s."
Dr Apichella was married to the 'love of his life' Judi and they had five children.
His funeral was at St Peter's Church, in Cockfield, on November 8, 2019 at noon. Donations can be made to the Michael Apichella Funeral Fund https://www.gofundme.com/michael-apichellas-funeral-fund/