Overseas Marylanders Association

In Memory
Willard Martin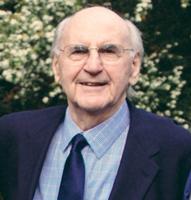 Willard Martin, 87, died peacefully, with his wife by his side, at Landis Homes Retirement Community on May 28, 2021. The cause of death was aspiration pneumonia due to complications of Lewy body dementia. Willard was born into the Old Order Mennonite home of David and Adina Martin in the village of Hawkesville, Ontario. As was customary for a boy in that culture, he quit school at age 14 and worked on his parents' and other farms. At age 17 he took a job on the Ezra Brubacher farm; through their influence he left the Old Order church and joined a mainstream Mennonite church. In his early 20s he drove a semi for several years. In 1957, encouraged by the Brubachers and by peers, he enrolled at Goshen College, where he earned a B.A. in history and met his future wife, Mary Ellen Kauffman of Lancaster, in a German class. The couple were married for almost 59 years.
Willard taught in a junior high school in Elkhart, Ind., for three years before going to graduate school. After earning an M.A. in German at Penn State he took a teaching position in the German Department at Shippensburg University, but after a year there he decided to return to Penn State to work on a Ph.D., which he finished while working full- time in an administrative position and doing some teaching. During these 14 years on the main campus he developed a course in Pennsylvania German language and culture and was active in the Pennsylvania German Society. With a grant to do research on the dialect, he and a colleague interviewed dialect speakers in Lancaster Co. and in Waterloo Co., Ontario. They presented their research in a symposium at the University of Kansas, and their paper, "Language Loyalty among the Pennsylvania Germans," was published in Germanica Americana 1976. Continuing to work for Penn State for five more years, Willard served as the director of academic affairs at the branch campus in McKeesport.
Then for a number of years Willard was employed at Goshen College as academic dean and professor of German. Interspersed in those years were two stints of directing study-abroad programs in Germany: a semester with the Goshen College program in communist East Germany and two years with Brethren Colleges Abroad in Marburg.
Among his son Derek's favorite memories of Marburg is that his dad was always willing to chauffeur him and his friends and obviously enjoyed listening to their German chatter and teenage colloquialisms.
In 1995 Willard returned to Germany for five years to serve as the CEO and academic dean of a small University of Maryland campus in Schwäbisch Gmünd. In that town a man was overheard saying that Willard's German was better than the natives'. The years in Germany were some of the high points of Willard's life.
Upon his official retirement in 2000, Willard and Mary Ellen settled in State College. The German Department at Penn State asked Willard to teach again, and he taught for 14 more years: elementary German, upper-level literature courses, and courses in between. In the later years he confined his teaching to a course on the plain Anabaptists, a version of the course he had developed in the 1970s. His heart was really in teaching, and he was clearly well-liked by his students, as evidenced, for
example, by the honor of several student marshals having him escort them at their Penn State commencement ceremonies.
Willard was known for his storytelling and was invited to speak to various groups about the plain people. In light of his early background his accomplishments were remarkable.
In 2014 Willard and Mary Ellen moved to Landis Homes, but after a total of 28 years in State College it remained "home," partly because it was where they had enjoyed life with their two young sons.
Willard was always involved in sports, playing ice hockey and baseball in his youth. Later he was known as a wicked racquetball player, and he enjoyed coaching his son Stefan's Little League baseball team. Just a week before his death he batted a ball back and forth with Stefan. His favorite sports on TV were ice hockey and Penn State football. At Landis Homes he played water volleyball and in his last year took seriously his exercise sessions in the fitness center. He also volunteered at Landis Homes, chiefly by wheeling patients to the chapel on Sunday mornings.
Other interests were reading, travel, and activities with his beloved sons and grandkids (especially chess and pool in recent years). Family vacations often took the Martins to Chesley Lake Camp in Ontario, where they spent time with friends and relatives. Over the years Willard and Mary Ellen made a number of trips to Europe; they traveled extensively there while living in Germany. After returning to the U.S. in 2000, Willard realized his wish to see more of North America. He created many happy memories with his family.
In State College, Willard was involved in leadership at University Mennonite Church. Currently he was a member of Akron Mennonite Church. He was a kind and gentle man, a wonderful husband and father. He was also exceptionally good with animals and children. Landis Homes staff who took care of him in his last four months called him dear and sweet. The family thanks them for their good and loving care.
Survivors are his wife; two sons, Stefan (Heidi) of Milwaukee and Derek (Henry Lucero) of Los Angeles; two sisters, Gladys Diefenbacher (Edward) and Marlene Kwandt (Peter), and brother-in-law Lorne Metzger in Ontario; brother-inlaw Richard Kauffman (Suzanne) in Goshen, Ind.; three grandchildren, Lily, Garrett, and Kyle, in Milwaukee.
Preceding him in death were three brothers, Clarence, Cleon, and Lloyd; two sisters, Vera Brubacher and Florence Metzger; and a stillborn grandson, Owen.
In lieu of flowers, memorial contributions may be made to Mennonite Central Committee or the Landis Homes Caring Fund. A memorial service will be held on August 28. Details will be announced later.