Overseas Marylanders Association

In Memory
Rodney Mitchell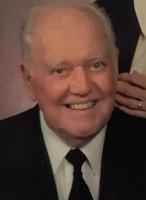 Dr. Rodney Martin Mitchell was born on April 19th, 1933 to Ralph Martin Mitchell and Margaret Gertrude Mitchell. He died on October 4th, 2020 at the Linden at Stonehaven Square Assisted Living Center in Tulsa, Oklahoma. Rodney was an educator, teaching, coaching and working as an administrator in the public schools in states of Oklahoma, Washington, Arizona and Missouri. He attended Wheeler Elementary School, Capitol Hill Junior High and Graduated from Capitol Hill High School in 1951.
He had been active in sports, playing softball, baseball and his love, basketball. He attended Northern Oklahoma Junior College with a full basketball scholarship at received his associate degree. He continued his education at Central State College, receiving his Bachelor of Arts in Historical Economics in 1955. In 1957, he graduated from Central State College with his Master of Teaching degree. His Doctor of Education in Economics was completed in 1967, from University of Oklahoma.
He taught in Higher Education at Cameron College in Lawton, Oklahoma, Flat River College in Missouri, Emporia State University in Emporia Kansas, and the University of Maryland, European Division.
Rodney was married to Anne McKinne Higgins on February 19th, 1955 in Clinton, Oklahoma. From this union were born four children; Martin Drake of Vancouver, BC, Brian Ladd (deceased) Hillman Scot of Seattle Washington, and Gay Lynne of Owasso, Oklahoma. They have six grandchildren, and six great grandchildren.
He was preceded in death by his parents Ralph and Margaret and son, Brian. He is survived by his wife, Anne, his three children as well as his grandchildren and great grandchildren.
Donations in Rodney's honor may be made to the Capital Hill Athletic Association, the OSU Medical Research Foundation, or to the charity of your choice.
Rodney donated his body to Oklahoma State University Medical Research.