Overseas Marylanders Association

In Memory
John Bardi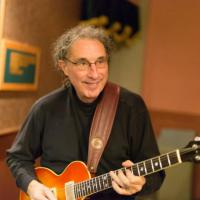 John Francis Bardi died on September 24, 2020 at his home in Ventura, California.He was born May 24, 1947. He is survived by his wife, Amy, his four children, Ty, Jason, Andy, and Ariel, and his two grandchildren, Georgia and Zack.
John's lifelong passions were music and teaching. John picked up his first guitar as a teenager. By the time he'd graduated high school, he and his brother, Julian, had released several singles as the "Dagenites" (named after their mother's hometown of Dagenham, London). John would spend the next six decades playing music, both in bands and as a solo artist, and was well known in his communities as a brilliant guitarist.
The first member of his family to graduate from college, John earned a bachelor's degree from Frostburg State University, a master's degree from the University of Toledo, and a Ph.D. in philosophy from the University of Missouri. John would go on to work for the University of Maryland's overseas program in Japan and the UK, where he taught philosophy to off-duty US service members, as well as Shepherd University in Shepherdstown, West Virginia. He spent the final twenty-five years of his teaching career at Penn State's Mont Alto campus, where his colleagues voted him teacher of the year multiple times before his retirement in 2017. John loved being a teacher, and took immense pride in the number of former students who contacted him over the years to thank him for being such a profound inspiration.
In the late 1990s, John decided to start a cable access TV show on the ACTV public channel in Gettysburg, Pennslyvania. The "John Show," which ran for over a decade and became a community staple, was an irreverent sci-fi-themed mashup of political commentary, philosophy, and rock guitar. In 2018 he published a novel, "Conversations with a Philosopher from Another Planet," which he based on the key themes and concepts from the John Show. Prior to his death, John had been brainstorming how to bring the show back on YouTube.
For those of us who knew him, it's impossible to capture what he was about in a few paragraphs. But we're hoping this site will allow us to collect everyone's memories in one place so that we can, collectively, begin to tell the story of the legendary John Bardi.