Overseas Marylanders Association

In Memory
Carson Davis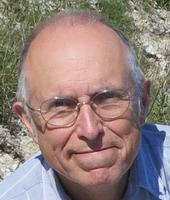 Dr. Leo Carson Davis passed away on November 23, 2021, in his Magnolia, Arkansas, home with his wife of 53 years, Elizabeth, at his side. He was born on November 26, 1943, in San Diego, California, where his father, Leo T.C. Davis, was stationed with the U.S. Navy during World War II. His mother, Opal Baker Davis, traveled alone from Arkansas by troop train to join her husband and give birth to their son in the San Diego Naval Hospital.
Dr. Davis grew up in Mountain Home, Arkansas; was awarded a National Merit Scholarship in 1960; and earned a B.A. in Natural Sciences, a B.S. in zoology, and an M.S. in geology from the University of Arkansas, studying the herpetofauna of Peccary Cave in Newton County for his master's thesis. In 1975, he earned a Ph.D. in Glacial and Pleistocene Studies from the University of Iowa, doing research on small fossil mammals from Kansas for his dissertation.
Then Dr. Davis began a career of teaching college classes, first as a lecturer for the University of Maryland European Division from 1975 to 1979, teaching geology and biology to American service personnel in Germany, Spain, and Greece, a gypsy scholar experience which sparked a lifelong desire to travel. Upon his return to the U.S., he accepted a six-month appointment as a researcher in the Illinois State Museum in Springfield, Illinois, and then he filled a one-year sabbatical-replacement position at Doane College, in Crete, Nebraska.
In 1981 he began a long career at Southern Arkansas University in Magnolia, retiring as a full professor in 2014. He taught primarily classes in geology and physical science, but also subjects as diverse as chemistry, geography, and vertebrate physiology. He conducted many field trips, was an active member of academic associations like the Society of Vertebrate Paleontology and Sigma XI, and was the recipient of an SAU award for Excellence in Research. He sponsored research presentations by SAU students at the Arkansas Academy of Science, was a consultant for a PBS documentary on Arkansas caves, and was frequently asked to identify vertebrate bones by archeologists and the public. His most recent academic publication was as a co-author in a 2015 report on fossils of Hesperornis (a bird from the Cretaceous) that he had collected in south Arkansas. He made many presentations in public schools on such subjects as plate tectonics and dinosaurs and took special delight in the youngest students, playing such games as how many first-graders can stand on a dinosaur footprint.
His greatest joy was teaching geology, using photographic slides from his extensive travels as well as rocks and fossils collected on trips across the U.S. and the world. He studied volcanoes in Hawaii, Martinique, Montserrat, St. Lucia, Sicily, Iceland, and the Greek islands of Santorini and Nisyros; he examined earthquakes in Italy and Missouri, glaciers in Switzerland and Montana, fjords in Norway, meteor impact craters in Germany and Arizona, a salt mine in Poland, a copper mine in British Columbia, and silver mines in the Czech Republic and the Attica peninsula of Greece. He explored mountains in Colorado, Peru, Bolivia, Austria, and Andorra, collected samples in Denmark from the KT-Boundary that marked the end of the Age of Dinosaurs, and was enthralled by natural history museums in New York, Washington, D.C., Los Angeles, London, Paris, Brussels, Helsinki, Haarlem (Netherlands), and St. Petersburg (Russia). He lived by the belief that the geologist who had actually seen the most with his own eyes was the one who knew the most about the science of the Earth.
He is survived by his wife, Dr. Elizabeth Hawk Davis; his sister, Carol Clark, and his nephew, Brian Knowles and wife Brandi Knowles, and grand-nieces Brooke, Bayli, and Bethany and their families, all of Cabot; as well as his sister-in-law, Dorothy Hawk, of Fort Smith, and good friend and travel partner, Ken Ball, of Rogers. Dr. Davis is remembered by his colleagues--to whom he was always generous in sharing specimens and ideas--and his excellent students, who have become researchers and teachers themselves or had their viewpoints expanded by his demanding, but always lively, approach to science education.
Gifts to honor Dr. Davis may be sent to the Southern Arkansas University Foundation, Magnolia, Arkansas, for the Leo Carson Davis Travel Fund in the College of Science and Engineering.
------
Click here to read Carson's OMA memoir that he wrote in August 2020.