Overseas Marylanders Association

In Memory
Maryan Wherry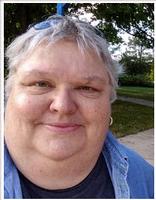 The many friends of the late Maryan Wherry, Orion, Illinois, are invited to join her family in celebrating her life on Saturday, March 7, 2020. A Service of Song and Thanksgiving for her gifts and talents is at 10:00a at Beulah Presbyterian Church, 9221 148th Avenue, rural Orion. Maryan seldom missed an opportunity to visit, tell stories, laugh, or "swap lies", so we anticipate her spirit in our midst when gathering afterwards at the TaxSlayer Center, 1201 River Drive, Moline, between 12:30p and 4:00p. Please feel free to wear your best "pepper pants" to either event.
Mitty was an artist. A gifted potter throughout her life, she produced an ever-changing, unique portfolio of product, designs, and glazes. A musician, she played guitar and served as choir director in her church. She sang regularly with the Handel Oratorio Society and was a committed member of the Trinity Ringers Handbell Choir, Moline.
Dr. Wherry held advanced degrees from Illinois State University, and Bowling Green State University (Ohio). She taught through many institutions in the Quad City region and the United States. As a professor with the University of Maryland she taught American service men and women in Germany, Iceland, England, Cornwall, Italy, Spain, the Azores, and the Marshall Islands. She willingly re-upped for repeated teaching assignments in Bosnia during the height of the war there.
As a research scholar, historian, and presenter, her interest in Contemporary American Culture and Women's Studies found her speaking regularly throughout the Quad Cities and presenting at national literary conferences. Her programs showcased her encyclopedic knowledge of unusual Quad City history. Maryan served on the boards at the Rock Island County Historical Society, Arsenal Island's Colonel Davenport House, the Western District Library, and Friendship Force Quad Cities.
Born in Kansas City, Missouri, she was the fourth child of Richard F. and Doris M. Wherry. Maryan is survived by her brothers Don and Chon (Sharon) Wherry, her sisters-in-law Diana Wherry and Donna Kerfoot, and close friends Marilyn Maus and Carol Schoening. Her beloved nieces and nephews can all agree that it was never dull when Aunt Mitty was around. Her parents, and her brothers Ross and Mike, received her into the glorious company of all the Saints in light.
Dr. Maryan E. Wherry: daughter, sister, aunt, scholar, potter, teacher, author, friend. Born December 24, 1956; died Friday, January 31, 2020.
----
Dr. Maryan Wherry passed away on Saturday 1 Feb following a short battle with cancer. She taught as an annual faculty member in Europe and the UK for many years. Dr. Wherry was also a sponsor for annual faculty members who arrived annually in Heidelberg. She taught English and History classes and left UMUC in the early 2000s. A celebration of life for Dr. Wherry will be held in Moline, IL on 7 March. For more information contact: Amy Moorash (amoorash@gmail.com).