Overseas Marylanders Association

In Memory
Carl L. Schmider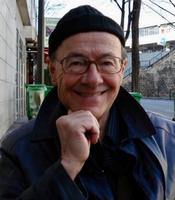 Carl Ludwig Schmider, 90, of Chippewa Falls, Wisconsin, slept away quietly in the afternoon of December 31, 2022, a week after his 90th birthday. Carl was a lover of the written word and had many sayings or quotes that he lived by. Summing up much of his spirit is "XAIPE" the Greek for "Rejoice!" that he shared on his license plate.
Born in 1932 to his German immigrant parents, Ludwig and Irma (Otto) Schmider, and raised with his brother, Albert, in Boston, Massachusetts, Carl graduated from Boston English High School in 1950. He served in the US Air Force from 1952-1956, with two years as Chaplain Assistant at Misawa Air Force Base, Japan.
In 1960, Carl graduated from Emerson College in Boston, where he stayed to teach and earn his M.A. He completed his Ph.D. at the University of Denver (1972), focusing his work in Speech Communication and English with a dissertation: "Precision which Creates Movement: the stylistics of e.e. cummings."
He met Mary Ellen (Heian) in Burlington, Vermont, where they both were faculty members at the University of Vermont. They married June 17, 1970, after a short courtship and were blessed with a partnership of over 52 years. He was a loving husband and father.
Books and reading were an important part of Carl's life. He was a supportive spouse and was always glad to go along but didn't need to be the main focus of any gathering. Instead, he would wait for an interesting conversation to find him. Carl didn't bother with "small talk;" what he offered was fully honest, sincere, and complete. Carl was a loyal friend and confidante and continued to keep up written correspondence with many throughout the years.
His professional life as a teacher was dedicated to adult students who were returning to education and to oral performance of poetry in venues both in the USA and abroad. Although he 'retired' in 1995, Carl continued to travel and teach overseas, as well as give time to the Literacy Volunteers of the Chippewa Valley. His students remember him as engaged, and a positive influence who was the social glue of his departments. His family remembers him as always grateful, with a kind word. Also as a reader, dessert cook, chaser of sunbeams, and for his voice which will be missed during singing and reading aloud at family gatherings.
For UMGC, Carl L Schmider taught Oral Interpretation of LIterature at Keflavik NATO Base in Iceland in 1985. He returned to the European Division in 1999, going down range to Camp Demi in Bosnia-Herzegovina where he taught Speech courses. From 2000-2003, he taught Speech, Creative Writing, and English in Incirlik, Turkey, Heidelberg, Ramstein, and Mannheim. Holding the PH. D. from the U. of Denver, he was an adjunct full professor for UMGC.
Carl is survived by his wife Mary Ellen; son, William Gunerius "Gus" (Denese) Sanders Leonard and grandchildren, Emma Marie Strand and Sophia Rose Leonard; daughter, Dagmar Heian (Dale) Meinders and grandchildren, Liv Karin, Hanna Kerstin, Ava Lauren, Elin Rose; and other extended relatives and friends. He was preceded in death by his parents; and brother, Albert J. Schmider.
A memorial service will be held at 3:00 pm on Sunday, January 15, 2023, at St. Anthony Park Lutheran Church, 2323 Como Ave., St. Paul, MN 55108. The service will be live-streamed for remote viewing for those unable to attend in person. The streaming will be viewable at https://www.youtube.com/channel/UChCVd5Zetx5uQM1xqsgM0zQ just prior to 3 pm central time on Sunday.
Interment will be held at a later date at East Side Cemetery, Stanley, WI.
In lieu of flowers, please consider donating to the Mayo Clinic for Alzheimer's research or to scholarships at the University of Maryland Global Campus (UMGC).