Overseas Marylanders Association

In Memory
Marea Whitaker Bishop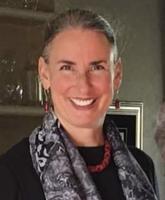 When Marea Bishop walked into a room (or a restaurant, or a virtual group, or a new country), those in her company felt energy, light, and an enthusiastic spontaneity. She constantly impacted those around her with her contagious smile and unwavering commitment to being a source of love and joy in the world. Marea was a kind and gregarious person who always sought out the finest attributes in other people--it was as if she could see right into their hearts. She wanted to share all of their experiences, revel in their lives, and celebrate their discoveries. She never tired of meeting new people, and she had an unlimited amount of love to share with each new person she met.
She was born in Atlanta, Georgia on April 5th, 1964, but moved to Germany when she was nine years old. She endured years of difficulty in the German school system as she learned the language, but ultimately became a stronger student and person because of it. Her time in Germany shaped her development as a teen and young adult, and she carried her love of the language and culture with her throughout her life. Marea did well in college, as she tackled full time work and her education simultaneously. She earned her Bachelor of Arts degree in English from the University of Maryland European Division while working in the records room at the university in Heidelberg from 1982 to 1987. Marea was always in search of new things to learn and experience. These experiences served Marea well in her adult life and, along with her passion, outgoing personality, and understanding of others, drew the admiration of many who knew her.
With a talent for making acquaintances easily, Marea touched the lives of countless people. From school fiends, to new neighbors, to strangers on the street, she always seemed aware of what was going on with people around her. Marea has maintained friendships with those she knew in Germany and continued to form deep bonds with friends she has met all over the world throughout her life. She has been a true citizen of the world, and we are all better for having been part of her story.
In 1987, she married Tory Bishop in a fairytale ceremony at the Heidelberg Castle. From there, they moved to Bellevue, Nebraska, which would be her home base for the next 35 years. Marea and Tory were blessed with two children: Devlin and Madeline. While she and Tory divorced in 2001, they remained excellent co-parents, and Devlin and Madeline shared time between the two homes. After the divorce, Marea built her own photography business from the ground up. Having always had an artistic eye, it was a natural step for her to take. She was the owner of Photography by Marea in Bellevue, NE until closing the business in 2018 to travel the world. Her favorite pursuits were photography, world travel, and caring for the Earth. She committed herself to adding value to her community, supporting small businesses, and taking every opportunity to enrich her life and the lives of others through travel and art. Throughout her later years, Marea was an active member of the Omaha area Sisters of the Red Tent, Spiritual Living Palm Beaches, and various Facebook communities that kept her connected to friends far and wide.
She was the self-proclaimed Ambassador of Love and was committed to spreading love, light, and joy wherever she went. In 2019, she packed up and set off to live freely wherever life took her. Favorite destinations included Italy, Germany, France (pretty much anywhere in Europe), as well as her time spent in Africa and Central America in the years leading up to her diagnosis. Travel was her passion, so special memories and connections were made everywhere she went.
In June of 2021, she noticed something amiss with her left breast and received a diagnosis of Triple Negative Inflammatory Breast Cancer. She spent time in Panama trying natural treatments, but ultimately returned to Omaha in September of 2021 to undergo chemo, surgery, and radiation. Her daughter was able to be with her for a full year as she endured treatment and did everything she could to continue living and enjoying life despite the circumstances. When the cancer recurred only two months post-surgery, they set off on a Rhine River Cruise to seize the day and begin tackling bucket list items. They did their best to make the absolute most of the time they had in the months following.
Marea passed away on March 3, 2023 at home in Springfield, Virginia after moving in 2022 to be closer to her daughter. She never used the terms "fight" or "battle" because she did everything she could to recover and heal through love and peace. Despite 2 surgeries, 4 chemos, and radiation, the cancer continued to spread. After more than a year and a half with this cancer, her body had had enough. For those of you familiar with angel numbers, you may know that she was largely drawn to triple 3s. She often encountered them and loved to look up at the clock and see that it was 3:33. The 333 encourages personal strength and trust in one's choices, represents the harmony of mind, body, and soul, and can also signify the presence of guardian angels. It is believed to be a sign from the universe, guiding us towards the right direction and helping us make the right decisions, so it feels only fitting that she chose 03/03/23 right around 3:33am for her departure. Her deepest hope was that her experience and care would lead to advancement and further research into treatments for triple negative inflammatory breast cancer.
There was always a certain style and creativeness to Marea. She was a dynamic, self-expressive person who was forever looking to celebrate the endless possibilities life had to offer. While she was often fiercely independent, it seemed as if many others looked to her for inspiration, leadership, wisdom and even courage. Marea was always more than willing to share life's experiences with her loved ones. She is survived by her children, Devlin and Madeline, her siblings, and every soul she has ever touched. As her friends and family are all over the world, a virtual memorial and celebration of life will be held later this year. Marea was cremated in Springfield, Virginia, but her spirit continues to reside in the hearts of all those who have loved her throughout her life. Her light and love live on in all of us -- how lucky we are to have loved and been loved by her.
https://obituaries.virginiacremate.com/obituaries/chantilly-va/marea-bishop-11000589?fbclid=IwAR1i-GKT2JQuhbpUrdGGTp51CvNLhFWGoQ2i_7uyTqkGaUBALKZyeeO_