Overseas Marylanders Association

In Memory
Elinor Seidel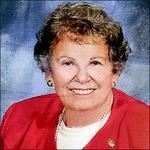 Submitted by: Rosemary Hoffmann & Kathy Seidel
Elinor Seidel passed away on November 28, 2017, at age 92 in Silver Spring, Maryland. With her passing, UMUC has lost a truly remarkable woman, staunch supporter, and constant source of inspiration. Her involvement with the university began in Tokyo in June 1959, when she was hired as Assistant to the Far East Division Director, Mason G. (Bob) Daly. From her return to the U.S. in 1963 until her retirement in 1984 Ellie served under various titles and individuals as Assistant to the Dean/Chancellor/President of UMUC. She was the key staff administrator who kept everything and everyone on track. Little happened at University College without Ellie's direct involvement or knowledge. How many "Ask Ellie" sticky notes are scattered around the UMUC Archive today that will now have to go unanswered!
If you, as an overseas faculty or staff member, didn't know Ellie, she undoubtedly knew you. She would have interviewed you if you were hired through the stateside offices between 1963 and 1984. Whether you were a new hire, returnee or transferee between divisions, it was Ellie who shepherded your file through the entire process: assembling your complete file including transcripts and references, health report, loyalty oath [yes, that was a state requirement for many years!], security clearance, contract, and last, but not least, your travel orders. In the mid-1970's Ellie asked Univ. College faculty and staff to submit recipes from their travels around the world which she then compiled into "Chefs, Scholars & Movable Feasts". Maybe one or more of your recipes appeared in the 1978 cookbook?
Ellie completed high school at age 16 and, unusual for the times, began studying at Columbia University. Her marriage to Carl Seidel, an Army Lt. Colonel, took her first to Tokyo in 1959 and then, after Carl's retirement from the military, to Washington, DC, in 1963. At that time, Ellie became the first woman on the stateside professional staff for University College.
Both Ellie and Carl took advantage of UMUC's continuing educational opportunities. They graduated together with bachelor's degrees on June 9, 1963. Ellie went on to complete a Master's degree in history and also began work on a Ph.D. Ellie had a phenomenal memory as one might guess from her professional activities and from her love of both history and statistics. Her granddaughter Leslie commented that, "before there was Google, there was Grandma".
In addition to her demanding professional career, Ellie was an avid golfer and active sports fan. She also played bridge and scrabble with a vengeance, read prodigiously on a broad range of subjects and travelled whenever the opportunity arose, first with her husband Carl and after his death in 1990, with her daughter, Kathy, and granddaughters, Leslie and Alexis. Kathy followed in her mother's footsteps, receiving a Ph.D. in English at the University of Maryland and eventually becoming Dean of the College of Arts and Sciences at the University of Central Florida, Orlando. Daughter Leslie Miranda is a licensed therapist in Camarillo CA , specializing in PTSD and family therapy, and daughter Alexis Wang is a graduate student in art history at Columbia University.
The Spring 1975 Marylander, described Ellie as "UC's woman of the future", stating: "Elinor Seidel is not the typical woman of today. But she may well be a model for the future". Today, it seems more appropriate to describe her as a "Renaissance Woman", a term she richly deserves. We have all benefitted tremendously from her talents and dedication. We shall miss her deeply.