Overseas Marylanders Association

In Memory
Melanie Higgins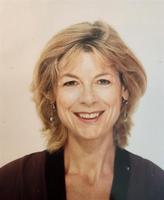 Dr. Melanie Ann Higgins (nee McKernan), age 74, of Rocky River, Ohio, passed away with her family by her side, on Wednesday, June 28, 2023 at Southwest Hospice in Strongsville after a lengthy illness.

She was born on March 4, 1949 in Lakewood, Ohio and has been a resident of Rocky River for the past 7 years, moving from Heidelberg, Germany, where she had resided for nearly 30 years. Melanie completed her undergraduate studies at Cleveland State University before earning her Doctorate in Psychology at Heidelberg University in Heidelberg, Germany. She went on to become certified Jungian Analyst and operated her own psychology practice both here in the United States and Germany.
Perhaps it was her job, or just in her nature, but Melanie was very inquisitive. She possessed a genuine love for people, and a special relationship with her beloved cat Sophia. She enjoyed music and singing, was fluent in German and had a passion for traveling. Her free time would find her taking long walks or tending to her flowers.

She is survived by her son Chris (Betty) Higgins of Grafton, grandchildren Jake, Samantha and Emily Higgins and Zack, Nicholas and Britney Antoniewicz; siblings David (Nancy) McKernan, Scott (Jan) McKernan, Gerianne Kody, Veronica (Mark) Brooke, Julie (Mike) Katona and Lucy (Charles) McKernan; many nieces and nephews; her beloved cat Sophia.
She was preceded in death by her parents Thomas and Doris (nee Crooks) McKernan; sister Donna Clendenan.

Family will receive friends in the Bogner Family Funeral Home, 36625 Center Ridge Road, North Ridgeville, on Thursday, July 6, from 4:00-7:00 p.m. Interment will be private.
https://www.bognerfamilyfuneralhome.com/obituaries/Melanie-Higgins-2/#!/Obituary