Overseas Marylanders Association

In Memory
William Huffman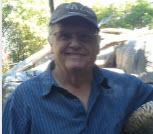 William H. (Bill) Huffman
On 31 March 2021, Ann Hergatt Huffman, posted the following announcement on Facebook: "It is with a heavy heart and immense sadness to share the news that the love of my life, Bill Huffman, passed away last week from complications related to cancer. After over 40 years in academia, Bill retired from Northern Arizona University (NAU) in May of 2017 as a Professor Emeritus in the Department of Psychological Sciences. Bill was beloved by his students throughout his career. Bill possessed a love for culture and history and had the opportunity to live and work in Germany, England, and Japan, in addition to North Carolina, South Carolina, Texas, Arizona, and Virginia. Bill was a gentle and kind soul who lived life to the fullest. He loved to travel, tend plants, cook, watch cartoons, root for Duke basketball and spend time with loved ones."
Bill, who earned his B.A. and M.A.Ed. degrees at East Carolina University and the Ed.S. and Ph.D. at Duke University, was an outstanding overseas Marylander who worked in the European and Asian Divisions throughout the 1990s and into the new century. In addition to heading the Counseling and Personnel Services (CAPS) graduate program in both divisions, he was both a faculty member and the Area Director for Central Germany, Greece, Honduras, Portugal, Spain and Turkey.
In lieu of flowers, it is suggested that donations be made to the Flagstaff Family Food Center (https://hotfood.org) in Bill's honor.
There will be a celebration of Bill's life on September 19, 2021 in Flagstaff, AZ.