Overseas Marylanders Association

In Memory
Larry Hepinstall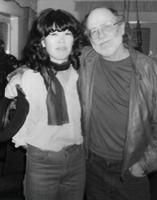 Larry Gene Hepinstall - globetrotter, lover of books, music, food and wine, and a keen and compassionate observer of and commentator on world events, ideas and his fellow human beings - died on January 21, 2023 after a years-long battle with ALS.
Larry dedicated his professional life to higher education. Born in Midland, Michigan, he got his BA at Albion College in Michigan, his Master's on a Ford Foundation scholarship at Claremont Graduate University in California, and his PhD at the University of Washington in Seattle, and went to South Korea in 1969 on a Fulbright. In 1971 he joined the full-time faculty of the University of Maryland University College (now Global Campus) overseas program, which continues to offer university-level classes and degrees to U.S. military personnel wherever they serve. It was a match made in heaven; he was joining a close-knit community of academics with a passion for adventure and extraordinary minds and hearts open to new cultures and experiences. In stints as a teacher of politics and history around Asia, including in Da Nang during the war in Vietnam, as an administrator in Europe based in Heidelberg, Germany, and representing UMUC in Bangkok, Larry gained a reputation as an inspiring instructor, a supportive and beloved colleague and an innovative administrator.
When he ended his Maryland career at College Park after three decades, however, it was the start of something new: supporting his Korean novelist wife. Hi Soo, whom he met coming off army service in Seoul in 1960, was writing a cookbook after introducing generations of Maryland faculty to Korean food. The book that emerged, the highly successful Growing Up in a Korean Kitchen, sent Hi Soo around the country and the world with Larry as her enthusiastic assistant, featuring in the media and culinary conferences and events, including the Smithsonian Folklife Festival in Washington DC. The couple moved to Sperryville, Virginia, where Larry plunged into local life and Democratic Party politics, and often traveled abroad to visit their daughter, Sonya, and her husband Steve and children Samantha and Oscar in Singapore and London, where Sonya worked as a Reuters journalist.
While helping Hi Soo research her next book in Kyongsangnam-do, South Korea, Larry had the first setback leading to his eventual diagnosis of ALS (amyotrophic lateral sclerosis) in late 2019. The debilitating disease slowly ate away at Larry's ability to pursue some of his greatest pleasures - travel, reading independently, dancing and hosting parties with Hi Soo, not to mention beating younger competitors at squash. But he managed to find joy right up to the end - attending an Overseas Marylanders Association reunion weekend in November in Adelphi, Maryland, enjoying the recent Thanksgiving dinner with extended family in DC, and celebrating the start of the Lunar New Year in his much-loved Sperryville home the night before he went into the hospital. He also remained active and interested in politics, social justice and current events, attending academic and cultural conferences via Zoom and celebrating the Black Lives Matter movement.
Aside from his immediate family, Larry is survived by a brother, David, of New York City, and David's wife and three sons, as well as Hi Soo's extended Shin family in South Korea and around the United States.
In memory of Larry, donations to the ALS Association, which does indispensable work to support sufferers of the disease as well as their families, among many other things, would be most appreciated.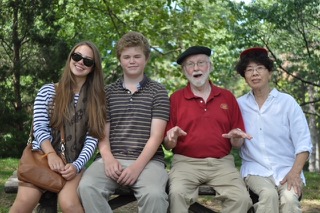 Larry and Hi Soo with grandchildren, Samantha and Oscar, New York City, 2012